Terrace around Kitchen Extension – Edgbaston
The owners of this period property in Edgbaston had recently completed a large kitchen extension – providing the impetus for them to commission a substantial terrace. This area overlooks a large and established garden, so views were important, as was the incorporation of areas to relax and entertain. The terrace is visible from a number of rooms in the house, so the space needed to be broken up by planting beds to provide seasonal interest, as well as a herb garden, which is easily accessible from the kitchen.
The recent level changes to the new kitchen doors required a number of steps and we decided to wrap these around the base of the building, making them something of a feature. The right-hand-side of the terrace is the sunniest spot, so to make best use of the space the seating area was decked, and a glass balustrade added as there is quite a drop to the lower level.
The remaining areas were constructed in grey sandstone to match the steps – a colour that works well to complement the hot orange house bricks. Reclaimed blue bricks were used to zone the areas and to enhance the layout pattern. The section to the left was to be a dining area and planting beds were added to soften the space and to break up the paving. The central section, with brick raised beds, is a herb garden and the bay tree standard a central focal point.
The terrace has been a great success and is now used frequently by the owners to entertain, host parties and to unwind.
Project completed in collaboration with Lupin Gardening Ltd and Avalon Landscapes & Design Ltd.
Mel did a fantastic job designing our new rear terrace. We had some basic ideas but she developed them into something incredible, manageable, usable and beautiful. She introduced a number of design features, which really made the whole thing come together and blended the different areas together. I would have no hesitation in recommending her to others.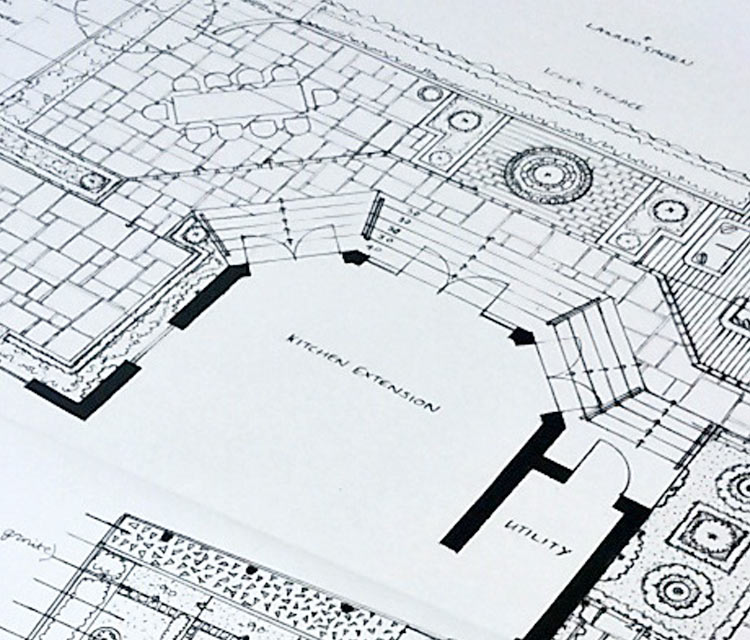 Large raised terrace

Zones created using reclaimed bricks

Sandstone feature steps

Glass balustrade

Reclaimed brick planting beds