Sculpture Garden with Raised Beds – Acocks Green
These clients had differing aesthetic expectations for their new garden. One liked cool greys, with a calm and masculine finish whilst the other sought a riot of colour and feminine softness. We melded the two together – combining the angular grey structure of the hard landscaping, with colourful, textural planting – satisfying their disparate tastes.
The refurbished garden includes dynamically designed, angular raised beds with painted render walls, placed so that the passage through this long, narrow garden is both diverting and beguiling. The beds, now generously planted with a selection of contrasting colour-combination plants – purples and oranges, reds and yellows – both soften and give life to this cool space. Stepping-stones, over a soothing water feature, form the access to the lawn area.
As features, and extra diversions, a curved rendered wall with niches for outdoor lights, forms the backdrop for the client's stone sculptures. An elegant stone monolith, set on a decorative pebble circular plinth, provides a central focal point.
Project completed in collaboration with Lupin Gardening Ltd and Avalon Landscapes & Design Ltd.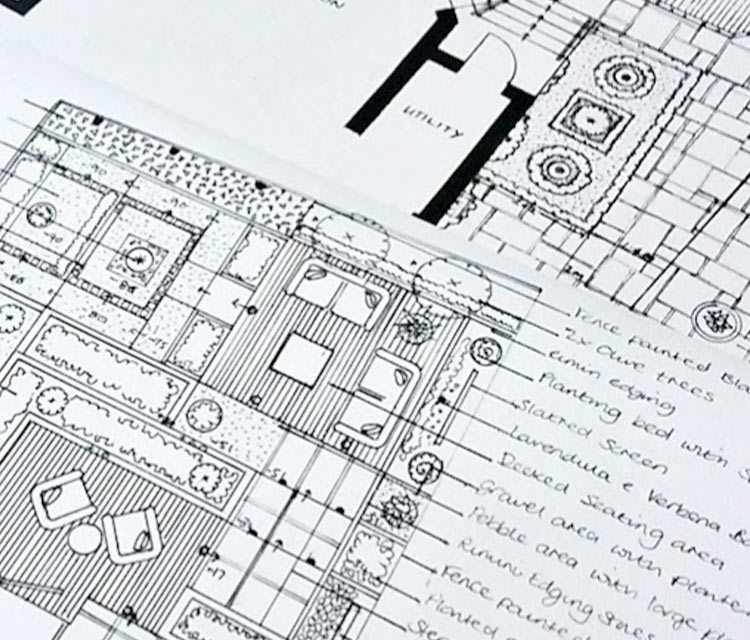 Rendered raised planters

Stepping stone water feature

Stone monolith

Curved feature wall