Garden Transformation – Northfield
This is the largest garden transformation that we have been involved in – creating a beautiful, functional and generous space from what had been an unpromising and underused wilderness. Over many years, the garden had become congested with large laurels and conifers. A Victorian rockery dominated the centre of the garden, and, as the neglected trees and shrubs grew, the usable area diminished.
Once the clients approached retirement, they wanted a transformation of their outdoor space – into a place where family could gather and eat and where grand-children could play. From the house, pleasurable and beautiful views could now be enjoyed. Initially, we were only asked to look at the lower part of the garden, this was the best aspect, being south facing. However, it soon became clear that, with the addition of a new conservatory to the kitchen, the whole garden needed a total makeover.
The area nearest to the house now includes a simple water feature and a circular patio to sit and catch the morning sun; an ideal spot for a lazy Sunday breakfasts. A half figure-of-eight pathway, with arches, leads through the circular lawned areas to a 'sun-trap' terrace in the lower section of the garden.
Adjoining this is an outdoor cooking area for serious entertaining; it includes both a BBQ and a pizza oven, which makes for fantastic family get-togethers. We have also included a section of wildflower turf, which will eventually have fruit trees planted in it, making it a haven for wildlife.
Project completed in collaboration with Lupin Gardening Ltd and Avalon Landscapes & Design Ltd.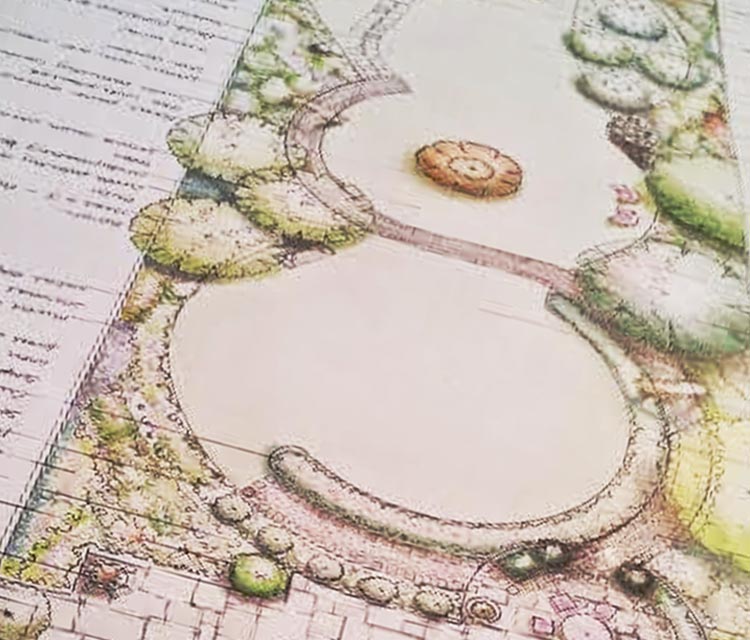 Large garden transformation

Circular patio & lawn areas

Half figure eight pathway

Outdoor cooking area

Wildflower turf

Dual aspect seating areas