Quirky Garden – Bournville
We worked very closely with the owners of this garden, as they wanted to do things slightly differently and it was very much a collaborative effort. The couple were downsizing from a huge and beloved garden and were determined to make the most of this new, smaller space. They were both experienced gardeners, one creative, the other very practical, but needed some help with layout and positioning of the numerous elements, which were anticipated; a greenhouse, an arbor seat, vegetable patch, bee hive, sunroom, dining area, fishpond, composter, sculptures and multitudes of Hostas!
The customers had already selected gabions to form the supporting walls, providing them with the 'industrial' look they wanted for the garden. We picked the paving, a black limestone, which we foresaw would fade to a soft grey. The sun room, bespoke built by Avalon Landscapes, was given a prime spot in the sunshine – a great place for a gin and tonic and an afternoon snooze. Pathways, formed with steels edgings, lead you through the deep borders and to the various destinations within the garden.
Michael Grinham, along with his team from Avalon Landscapes, also worked with the client on the detailing, which involved a great deal of immaculate bespoke work with metal and stone.
We enjoy this kind of cross-working with input from our customers, specialist touches from our landscaping and planting partners and the result here was such an individual space, which our clients adore.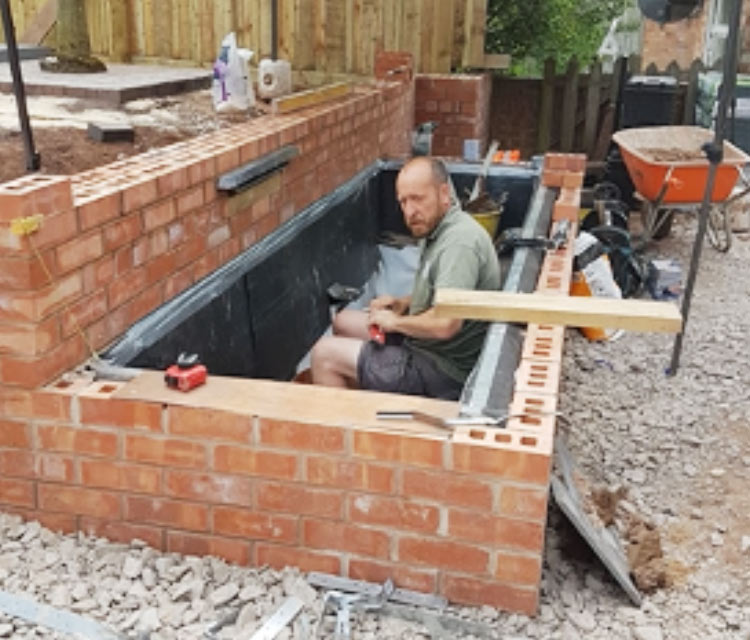 Gabion walls with seating

Bespoke built sunroom

Limestone paving

Bespoke water feature

Weathered steel edging