New Terrace for Established Garden – Edgbaston
The brief from the client was to create a large terrace around a newly built contemporary garden room – the terrace needed to work with this new element, as well as with the traditional garden beyond. Views across the mature garden were key and areas for entertaining were to be included.
The upper terrace was built in a light grey porcelain, which bought contemporary clean lines to complement the recently completed garden room. On the left, wide elegant steps, also in porcelain, lead down to the lower terrace. There are also a set of smaller steps on the right forming an alternative route. A tradesman's slope was also included for maintenance access to the remaining garden. A raised planting bed runs along the full length of the retaining wall. The planting, which is mainly evergreen, softens the space and adds interest from the garden room, in all weathers and seasons. A large figurative sculpture, at the end of the terrace, presides over the garden.
The lower terrace is in mixed-sized grey sandstone. This is more traditional in feel and provides a transition between the contemporary upper terrace and the existing lawned garden beyond. In this area we have ensured generous spaces for dining and seating as well as a bespoke-built cooking space with a BBQ and sink. There are two water features – one a bespoke water-wall and the other a sandstone sphere – which bring a soothing sound to the area. A serpentine bed runs along the edge of the terrace and this is planted with a variety of repeating pattern of topiary, grasses and flowering perennials.
Project completed in collaboration with Lupin Gardening Ltd and Avalon Landscapes & Design Ltd.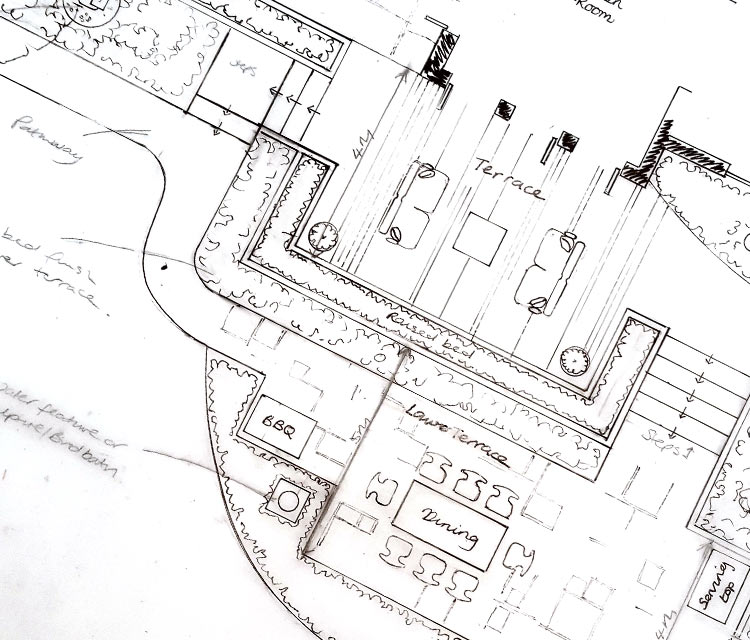 Serpentine planting bed

Raised planting beds to soften terrace

Stepped two tier terrace

BBQ & food prep areas

Seating & dining areas

Large figurative sculpture

Bespoke water wall feature