Cottage Garden – Oxfordshire
The clients were frustrated with their once pretty, cottage garden, which through time had become neither pleasant to look at nor to spend time in. The borders and beds had lost their definition and the overgrown and unsuitable planting was no longer giving colour or seasonal interest. Certain areas were also underutilised due to a number of factors, including poor access, shade and dank conditions.
Our approach was not too radical in terms of the overall structure; but when it came to the plants, we decided it was best to start again with the two key borders, so most of the planting was removed. Some small modifications were made to the shape of the retaining dry stone wall, a new pathway was installed along the outbuildings and a new patio area created. Key views from the property were also opened up.
The tired looking pond was removed, giving access to and opening up the area in the top left hand corner. This enabled the creation of a new natural stone seating area in a previously neglected and unused section of the garden. Removing the lower branches of the adjacent Ulmus not only exposed the tree's beautiful form, but also allowed light to stream into the newly formed patio area.
A metal sphere sculpture was also given a new lease of life; the gravel it had sat on and the rickety screen behind were removed. A new stone plinth was installed and a more robust screen was added to form a backdrop. With new planting around the sculpture it now had the space it deserved and was displayed to its full potential.
The new planting, chosen for the left hand border, consisted of topiary cones and spheres interspersed with herbaceous perennials and Alliums. This brought the overall height of the planting down, making the garden feel less oppressive. It also made it simpler to manage and gave it a more structured look. Roses and clematis were also planted to grow up and along the Cotswold stone perimeter wall.
The Rockery was overrun with Houttuynia Cordata 'Chameleon' and the definition of the edging stones lost. We created a more sinuously simpler shape and a range of rockery plants and Alpines were added to add all-year interest. The various routes into the garden were all widened to improve access and to make the space more welcoming. The stepped access to the garden, from the living room door, was now framed by two standard roses.
As you will see, the garden is much improved and the clients are delighted to have a transformed outdoor space that they can now enjoy to the full. Project completed in collaboration with Lupin Gardening Ltd and Avalon Landscapes & Design Ltd.
'Can I just take this opportunity to say how much we love the garden. It's easy to say 'oh yes, it looks lovely', but we genuinely have spent more time out there than ever before and we both really, really love it. Can't thank you, Sue and Mick enough for making it such a beautiful space.'
Karen Burling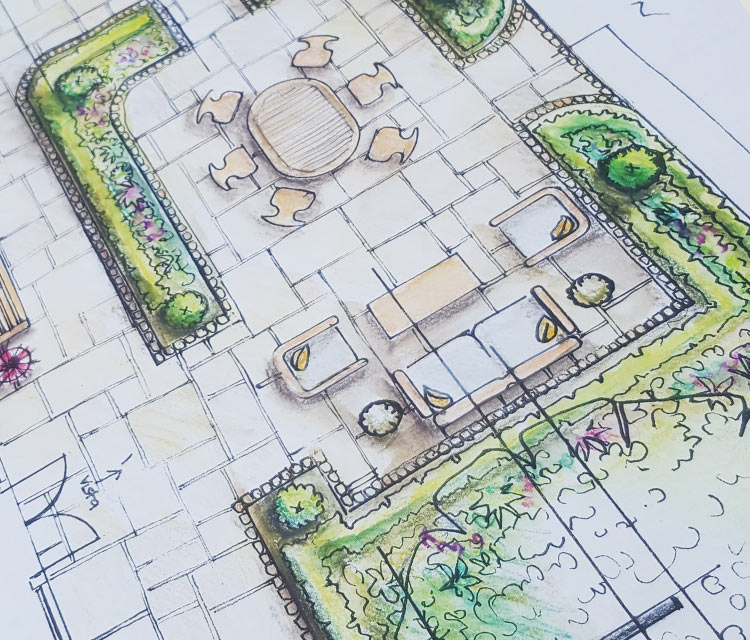 Natural stone seating area

Revised pathways

Modified dry stone walling

Rockery & replanting

Pond removal