Garden for Arts & Crafts House – Selly Park
The brief for this stunning period property was to redesign the entire garden. The owners requested a terrace, near to the house, and an informal lawn in the central section, with a woodland in the lower portion. Structure would be key to making this garden perform throughout the seasons and would simultaneously add an element of control to this large space.
The scale of the garden, coupled with the size of the house, dictated a large patio area. We opted to break this space up with the creative use of both hardwood decking and slate, with planting beds inserted in key areas. We also included a bespoke, built-in seat and the client supplied bright red cushions, providing a touch of drama. Louvered screening was incorporated along the perimeter walls to give privacy.
Reclaimed brick raised beds were built on the patio, and these were planted with box spheres and lavender to give a formal, structured feel. As a contrast, the remaining garden was generously planted in a relaxed and informal style. The curved pathway leads to a wooden pavilion. A birch tree woodland area will eventually be planted next to it.
Project completed in collaboration with Lupin Gardening Ltd and Avalon Landscapes & Design Ltd.
'We could hardly wait for the work to start. Now a few years down the line, the garden has matured and it's the structure and shape which really stand out. I've made the borders as low-maintenance as possible, and everybody who visits is wowed by what they see.
A good design helps to keep a garden looking great even if you're not the world's keenest gardener. You see the overall effect, and given a good planting scheme, the rest just seems to fall into place. I would recommend Mel to anyone wanting to get the most from their garden.
Derek Jones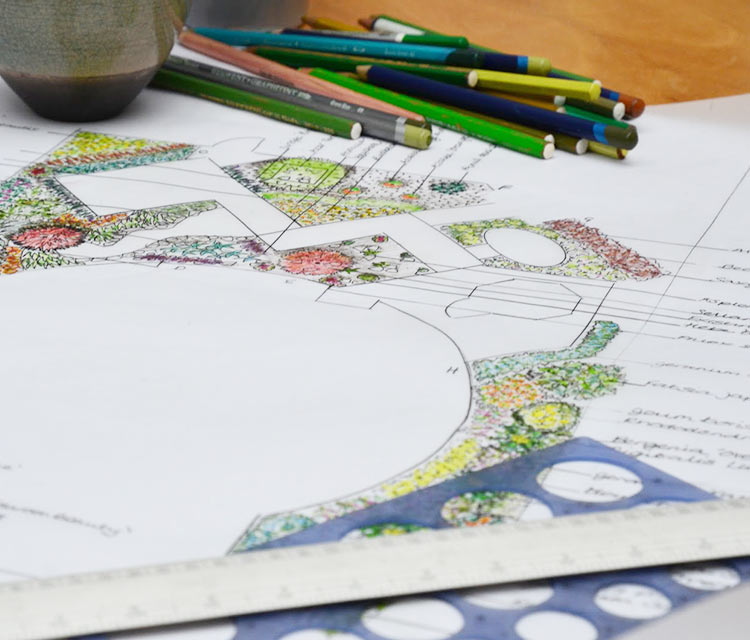 Hardwood decking

Slate terrace

Bespoke built-in seating

Reclaimed brick raised beds

Louvered privacy screening