A Garden for Entertaining – Cofton Hackett
These clients had recently re-modelled their house, and this included the addition of a kitchen/dining room with bi-fold doors overlooking the garden. The existing terrace, to which this led, was dark and uninviting – not a fitting backdrop for the beautifully updated house.
The lower level of the terrace was in shade, so the main focus of the new terrace was to be on the sunnier, higher level. We added wide steps to form the approach to the upper terrace, instantly making the space more open and welcoming. Large format granite tiles were used in this area to give a cool contemporary feel.
We divided the space into two distinct zones, for seating and dining, and these were separated by a decked section. This area formed the central focal point of the terrace, and consisted of a water wall and a planted section with a stone birdbath.
An L-shaped bar, clad with hardwood and topped by a granite work surface, has a BBQ and pizza oven and provides a great entertaining area for family and friends. Slatted grey cladding was used around the perimeter to give privacy and to obscure some unattractive walling.
Project completed in collaboration with Lupin Gardening Ltd and Avalon Landscapes & Design Ltd.
'Mel at Gardenplan designed both our new back garden which we love and our new driveway which is both stylish and practical. From start to finish on the project Mel took the brief and converted that into a stunning design which works wonderfully for us as a family.'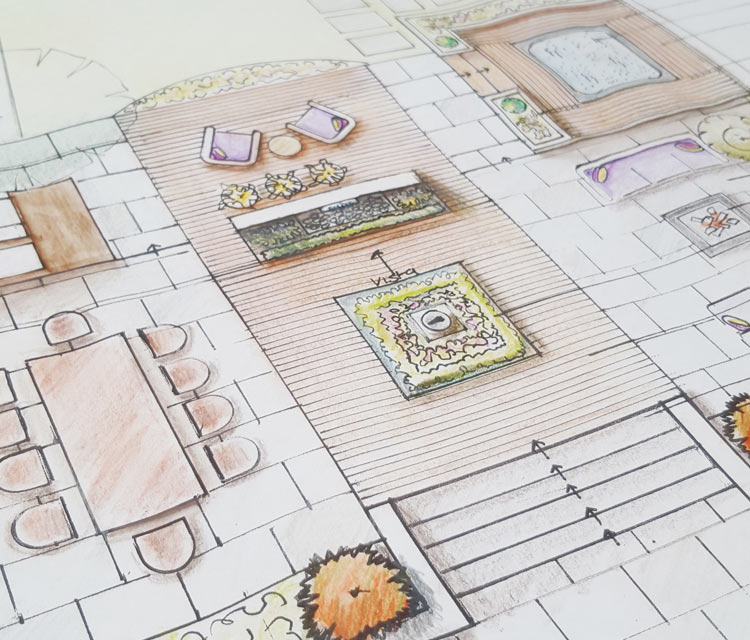 Grand scale steps

Zoned raised terrace

Pizza oven & BBQ bar

Feature water wall

Large format granite paving

Bespoke slatted cladding