Edwardian House Terrace – Dorridge
Having recently added a large extension to the rear of this handsome Edwardian property, the client brief was to rationalise and enhance the garden, and its altered relation to the renovations and construction work. Since the build, the views of the garden, as well as its access routes and levels, bore no relation to the reconfigured kitchen and dining room – both with key vistas now, as well as important access and entry points.
We determined that the style of the upper terrace should be more formal to match the house, and that the lower section be more organic – a transition from house to garden. The courtyard to the left of the property and the upper terrace needed to strongly reflect the style of the house, so reclaimed red bricks and slate were chosen to form the raised beds and step risers. The surface material, a combination of grey gravel and sandstone, were used to cool down the red tones of the brickwork.
Topiary was placed in the raised beds along the wall to give structure, whilst lavender and white roses added a softness along the length of the front wall. Spaces were formed for a small table and chairs and a decorative bench. A terrace for outdoor dining was included in the lower section, in the same grey sandstone as the upper terrace.
Project completed in collaboration with Lupin Gardening Ltd.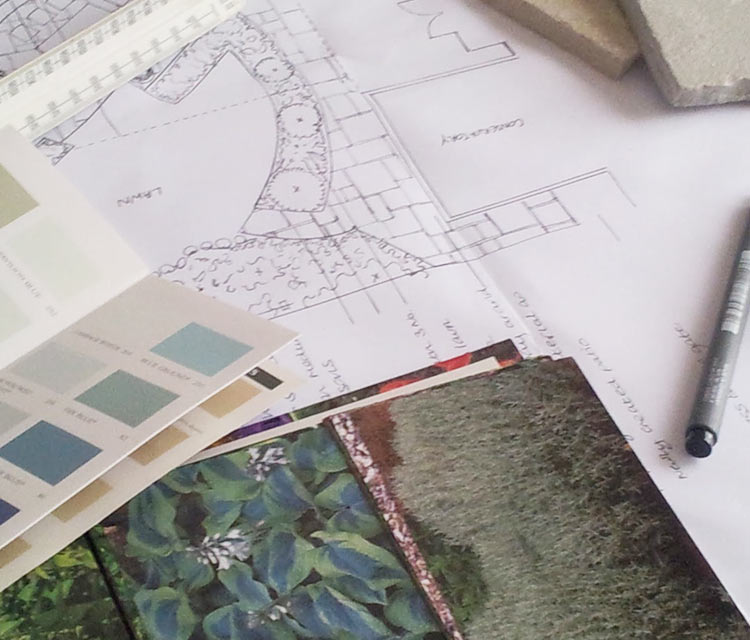 Style in keeping with property

Levels, access & key vistas resolved

Outdoor dining terrace

Courtyard area

Reclaimed red bricks

Topiary & raised beds