Dramatic Orange & Purple Garden – Blackwell
After completing their small courtyard garden in 2015, our clients were so pleased with the transformation that they invited us back to design and remodel their back garden. Then a baby arrived…and we made some more changes!
The initial idea was that the garden would to be designed around the installation of a hot tub spa and the space was to have a contemporary coastal feel. The second phase involved some reconfiguring to accommodate a new garden gym as well as bi-fold doors to the living room, which overlooked the garden.
The hot tub is set in a raised deck section with a small seating area next to it. Bespoke wood-slat, trelliswork ties the area together and a painted, wooden raised bed gives some privacy to the spa users. An 'egg pod' enclosed wicker seat was placed in the top right-hand corner of the garden – this has become an ideal spot for a lazy Sunday afternoon snooze after using the spa.
Our initial consultation also highlighted the need for an outdoor shower, which we added next to the hot tub so that family and guests can now change and shower in the garden instead of the house.
The patio dining area, adjacent to the house, was re-laid at an offset angle to better work with the layout of the spa section. On the left-hand side, a focal point has been created by the inclusion of a painted, L- shaped rendered wall holding a stainless steel water feature – visible from the patio and spa area.
The garden has a contemporary 'sand dune' feel and this is picked up again with the mass planting of grasses throughout the garden. Two beautiful multi-stemmed Silver Birch trees are planted in the left hand border for screening and privacy.
Striking orange and mirror finish planters were added to provide the final touches, and an orange and purple planting palette picks up and enhances the striking colours of the buildings and garden accessories.
Project completed in collaboration with Lupin Gardening Ltd and Avalon Landscapes & Design Ltd.
'We would thoroughly recommend choosing gardenplan design. Mel's designs have always delivered everything we asked for, but with an unexpected twist that surprised and delighted us. Mick at Avalon Landscapes has brought those designs to life with his advice on materials and finishes, while his team have been professional, tidy and considerate throughout. Our drab gardens have been transformed into colourful outdoor rooms, offering a choice of different places to sit throughout the day.'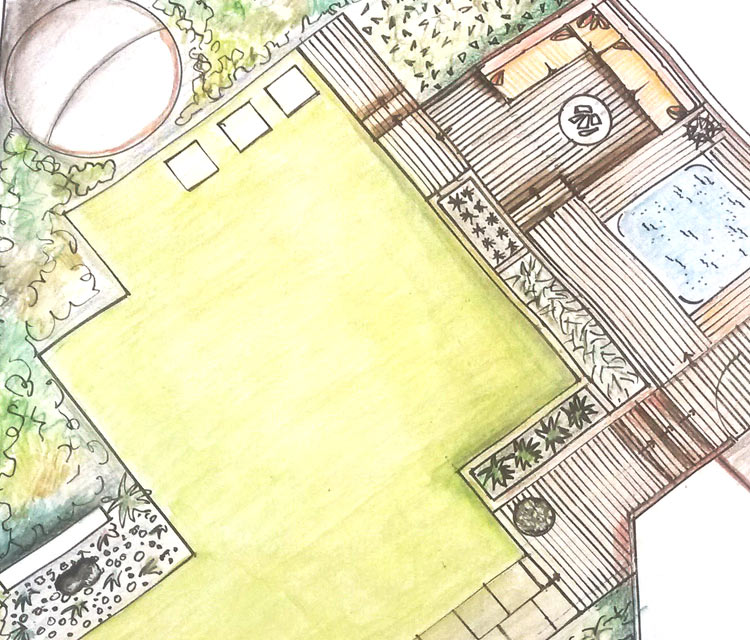 Raised deck hot tub

Outdoor hot water shower

Bespoke wood-slat trellis

Patio dining area

Feature wall & water feature

Orange & purple planting