A Re-designed Garden – Berkswell
This beautiful garden is in its second incarnation, after the new homeowners filled in a large natural swimming pool. The pool hadn't worked due to filtration issues and was no longer safe, and the new owners wanted somewhere to enjoy and entertain with their growing family. The garden had lost its mojo and needed a re-design to make practical and aesthetic sense of the space.
We retained the outer oval paths, which had formed the edges of the pond, but changed the material to grey gravel. To add height and structure, we placed simple square archways in timber, at regular intervals along these paths. These were also lit for night-time drama and use. The central area, which had contained the pool, was lawned, retaining its original shape but taking on new life as a place to sit or play. New borders followed the ellipse shape of the lawn, creating a place to add more structure, flow and colour.
A pattern of planting was devised, using box and yew topiary, with perennials laid out in a reversed mirror style. A new cabana became the main focal point in the lower section, and this was placed on a new dark grey porcelain terrace. Stepping-stones in the same material were laid through the lawn leading to another porcelain paved area at the top. A lighting plan was used to enhance the features. The garden is rejuvenated and is once more a beautiful space with purpose.
Project completed in collaboration with Lupin Gardening Ltd and Avalon Landscapes & Design Ltd.
'We began discussions with Mel on the big changes needed in our garden in the winter, from the start she was very enthusiastic which was encouraging as the garden had completely changed purpose. We'd filled in the pool and now required an outdoor social space which could be used into the evening. Mel was professional, punctual and approachable. She made some suggestions, listened to our thoughts and produced a fantastic plan. Her knowledge of plants and what would work best for our space was brilliant. We are now enjoying the space, it's perfect. Thank you Mel

.'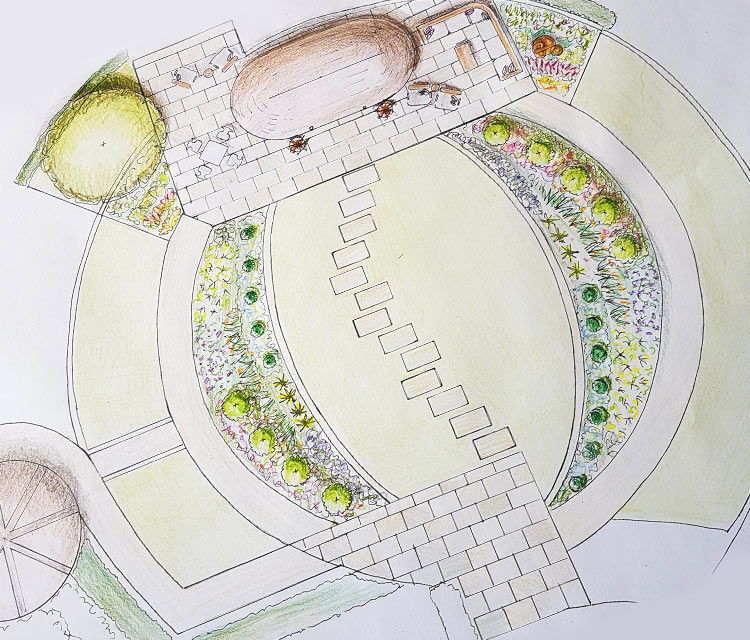 Stepping stones through the lawn

Square wooden archways

Reversed mirror planting

Deep grey porcelain terraces

Strategically placed lighting

Contemporary planters

Oval paths in grey gravel